What is the CPF ?
The "Compte Personnel de Formation" was created to allow any person in employment or seeking employment to benefit from training hours throughout their professional life.
Everyone who has worked in France has a personal training account which can be consulted on the official website Mon Compte Formation .
Previously known as the DIF*, the CPF allows you to use your account for training. The amount acquired is calculated depending your activity, from the moment you enter the labour market until the date on which you claim all your retirement rights.
The "Compte Personnel de Formation" can never be reduced as a result of a change of employer, regardless of the frequency of the changes.
*To convert your DIF hours into euros, you need to take your pay slip for December 2014 or January 2015 to credit them to your account or ask your former employer.
What are your CPF rights ?
For public service employees
Your training rights take the form of hours that can be used to follow a training course and obtain financing to prepare and implement a professional development project. This project can be part of a mobility, promotion or professional retraining, including to the private sector.
It can be used to take a diploma, a professional title or a certification, or also to develop the skills needed to carry out your project in the short or medium term.
A full-time employee acquires 25 hours per working year up to a maximum of 150 hours.
To benefit from the CPF, you must seek your employer's agreement. This agreement concerns the nature, timing and financing of the desired training.
If you do not have enough training hours, you can ask to use CPF rights in advance.
Our team is at your disposal on +33 2 49 88 29 08 to provide you with information and guide you in your professional project.
For private service employees
Your training rights are credited every year according to your salaried activity. For you, the personal training account is credited in euros, which allows you to choose the course that best suits you. In fact, you are the only one to manage your training account.
Applying for a Sherwood School course
Registering for training with us is quick and easy thanks to our team who will guide and advise you!
The Mon compte formation site is like a catalogue of training courses that meet the government's criteria, with our training courses associated with a language exam. We offer you to take certifications in English, Spanish and French such as the TOEIC, the Bright or the Certificat Voltaire.
With the CPF you are free to choose the training of our centre that best suits to your expectation. Whether you want to teach or learn French, English or Spanish, we have the right course for you.
To log in to your account, all you need is your social security number and to identify yourself with France Connect. Once logged in, you can access the number of hours or money available in your account.
IlThen simply search for one of our courses by keyword in the search bar, for example Montessori English / Montessori Spanish / English video lessons / FLE trainer…. and choose the "Distance learning" option. To make sure you find us, you can also use the filters and search for us with our organisation name "Sherwood Formation".
Here an example: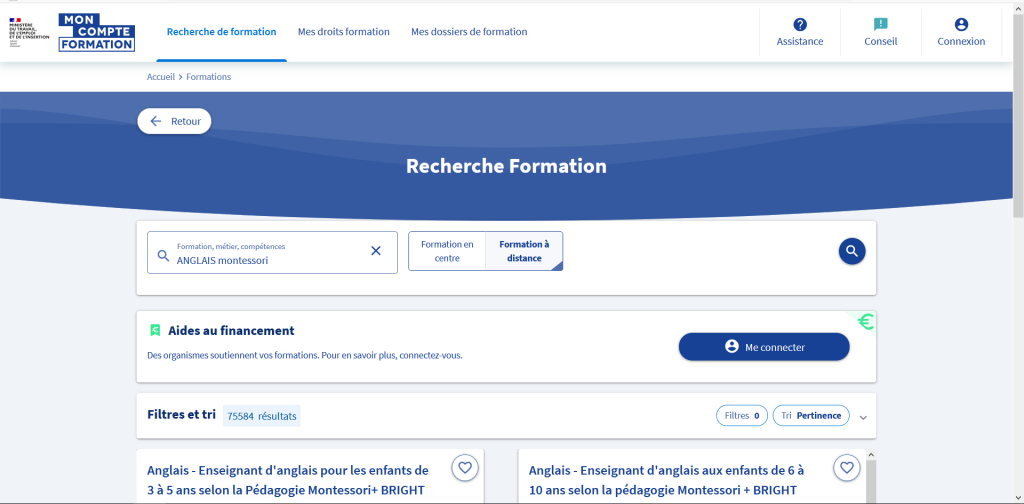 Afterwards, we invite you to click on the course that suits you best to get more information and also to visit our website or our Facebook and Linkedin page to learn more about us.
Once you have chosen our course, click on "Create my registration file". One of our advisors will then contact you to explain the course and give you the best advice for your project.
With Sherwood School, you have the choice to start your training every Monday and you are free to work on our courses at any time thanks to the courses available on our online platform. Depending on your situation, we will advise you on a training period that will allow you to work at your own pace and we will define the start and end dates together.
Once our advisor has entered the training dates on the CPF, you will need to confirm these dates on your account.
Financing
After this step, you will be offered to mobilise your personal training account for the funding. If you do not have enough money in your account, you can complete by paying with your bank card online (one-off payment). If you are unemployed, you can also ask for a Pôle Emploi top-up to finance the remainder.
In fact, all our training courses meet the criteria of the Pôle Emploi quality decree, which allows you to benefit from financial aid!
For more information, please contact us by filling in the contact form on our website or call us directly on 02 49 88 29 18.
Sherwood School team